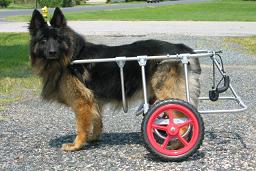 A friend recently sent me this great article "Wheelchairs keep disables pets moving"
Our pets always brighten our day and make living a little more enjoyable, so when they're sick or need more care as they get older it's our time to return the favor.
That's what "Wheelchairs keep disabled pets moving" was all about.
Here's a little excerpt:
Eddie and Leslie Grinnell, founders of Eddie's Wheels, built their first pet wheelchair in 1989 when their 10-year-old Doberman, Buddha, lost the use of her rear legs because of disc disease and spinal problems.
Their veterinarian, impressed by Buddha's revived mobility and vitality, started referring others to the Grinnells. In 1998, they started their own business.
Since launching the business, Eddie's Wheels has shipped carts worldwide — the largest to a 220-pound Saint Bernard in Great Britain — and has made wheelchairs for several cats, a ferret, alpacas, goats, sheep, a rabbit and a possum.
They even keep a supply of tiny wheels on hand for a gerbil or hamster.
I would love to see a picture of a gerbil or hamster using a set of these tiny wheels..anyone have a picture?
Come join us in the web's most dynamic and fun online pet community at
http://www.planet-pets.com
and keep your finger on the pulse by signing up free to our monthly online newsletter,
The Scoop
today!